The ever-popular favourites like the Bronte, Cressida, and Naomi ranges are making a comeback with new season iterations, featuring ultra-chic sizes and outstanding patterns. If you're enamoured with the mini bag trend, our Bronte boxy top handle is a must-add to your collection. Despite its small size, the visually striking two-tone design demands attention and serves as the perfect foundation for a colour-blocked, black-and-white ensemble. For those who prefer a larger and bolder style, the Cressida tweed bag in houndstooth will be right up your alley.
Circe Stitch-Trim Top Handle Bag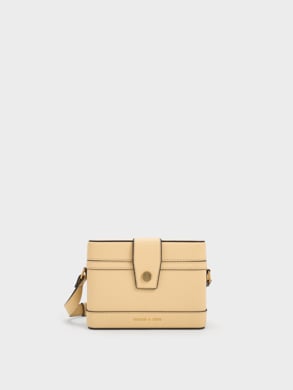 Bronte Boxy Crossbody Bag
You can never have too many black bags in your collection — the same colour in two different designs instantly creates two distinct looks. For that cool-girl aesthetic, opt for the utterly cool and clean-lined Noami hobo bag. On the other hand, if you're looking to complement a dressy ensemble, the Cressida quilted clutch will be the perfect choice.
For the woman seeking to add a touch of flair to her bag collection, these classic-with-a-twist bags are the perfect plus-ones. Embodying everything we love, they boast a rectangular silhouette that's spacious enough to hold your everyday essentials, luxurious braided handles, and elegant gold-toned hardware. Remarkably versatile, these bags effortlessly suit a variety of outfits and occasions, making them an ideal addition to any wardrobe.