FASHION TRAILBLAZERS: HIKING BOOTS
As the relentless summer heat gives way to the crisp embrace of fall, it is time to reintroduce boots into our wardrobe. This year, sturdier styles take the spotlight, with the ruggedly charming hiking boot leading the way. Born from the world of outdoor adventure, they are, at their core, practical and comfortable. By incorporating classic features like functional cleated soles and sturdy shoelace fastenings into contemporary design, hiking boots have come to define utilitarian chic.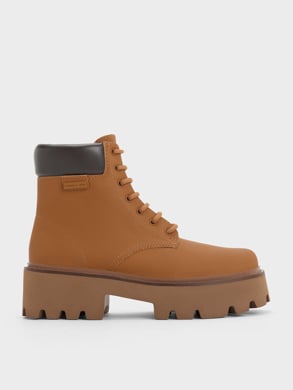 Ripley Ridged Sole Ankle Boots
Durable, chic, and incredibly comfortable, hiking boots are not just made for the trail but also for everyday life. A fusion of form and function, they are icons of urban exploration and lend themselves to a Gorpcore aesthetic. The Ripley ankle boots — with their ridged soles for added traction, reinforced ankles, and classic lace-up design — are a nod to the classic hiking boots we all know and love. If you're more for navigating urban landscapes, the Molly ankle boots are a better choice. Set on chunky, textured flatform soles that offer stability and a modest height boost, these boots feature a unique half lace-up design, ensuring a comfortable fit around the midfoot.